Sell Us Your Jewelry, Gold Or Rings
Free & Fair Offers
Dolgins has been buying unwanted jewelry including engagement rings, estate jewelry, antique jewelry, gold, platinum, and diamonds for decades in Kansas City. Our experience, market knowledge, onsite jewelry shop, and comfortable office make our store the best place to sell jewelry.
The Best Place To Sell Jewelry
Dolgins has been a recognized gold, diamond, & jewelry buyer in Kansas City for 4 generations. We continue to buy and sell jewelry from our private store in Overland Park as an independent.
Fair Offers.

I understand you want the most money for your jewelry. Dolgins offers the highest price we can.

Local & Trusted.

When selling your gold or jewelry, it will stay with you. Our assessments are completed face-to-face. We have 4 generations of experience and have earned a good reputation.

Comfortable, Discreet Office.

The Dolgins office is quiet and personal with a complete jewelry shop. Selling jewelry can be difficult, so we are empathetic and honest.
Ready To Sell?
Reach Out Today.
FAQ
Frequenty Asked Questions About Selling Your Jewelry?
How much will I get paid?

I answer this question after I inspect the jewelry. It can be difficult to do without a close assessment. With appraisals and GIA reports, I can sometimes give an estimate; however, I need to see the item.
What percentage do you as a jeweler pay for jewelry?

This question is similar to the previous one and depends on the piece. In a few instances, I have paid WAY more than some insurance appraisal values (150% more than the appraisal value). Other times and more frequently, I have seen appraisal values 1000 times more than I could pay.
What is the process for selling unwanted jewelry?

Setup an appointment in my small and discreet Overland Park jewelry office. You can text me to setup a time. Our meeting will be quick. I will assess your piece and make you an offer. If you chose to accept, the offer I will write you a check.
How do you pay?

We pay with a check and do require a valid government-issued photo identification such as a drivers licence or passport.
What jewelry do you buy?

The list is long, but here are some highlights: engagement rings, diamonds, bracelets, earrings, estate jewelry, heirlooms, antique jewelry, gold, gold bullion and coins.
Do you trade-in jewelry or credit towards a new piece?

Yes, we commonly take old or unwanted rings, diamonds, and jewelry as payment or partial payment when we are making a new piece or completing a jewelry repair.
Is it a good time to sell my gold, diamonds, rings or jewelry?

Yes, offers are based on current market conditions. As of June 2023, gold and diamond markets are strong now versus where they have been most of life. We are selling and believe it is a good time.
What can I expect when selling my jewelry?

Marsha and I are jewelry professionals and will complete a thorough and honest evaluation. Our office is safe and low pressure. In addition, Marsha and I will give an honest assessment, which sometimes is not what someone wants to hear. We aim to make lasting relationships with clients.
Do I need paperwork or an appraisal?

No, it is not required. Though, please bring any paperwork you have including a GIA grading paper, original receipt, or insurance appraisal. Please note: there is no need to pay a jeweler for an updated appraisal if you are going to sell an item.
Selling Your Jewelry - Good Information To Know
About
Dolgin's has a long history and has been a trusted place to sell jewelry in Kansas City for GENERATIONS.
Jewelry Consignment
Do Not Consign Your Jewelry. Essentially, incentives are NOT aligned with jewelry is consigned. I prefer straightforward and fair transactions.
Buying A Wedding Ring
We are divorced or broken up. I want to sell this engagement ring or other jewelry because it is time to move on.
Inherited/Estate Jewelry
My mom, grandma, or great aunt had these jewelry items that we will not wear. I want to sell them and enjoy using the money elsewhere.
Scams
Unfortunately, some jewelers are dishonest. Sell to (and buy from) someone you trust.
Comfortable Office
Dolgins is a comfortable and no pressure office where you can feel safe and comfortable selling your jewelry.
Appraisal/Paperwork
Dolgins is a comfortable and no pressure office where you can feel safe and comfortable selling your jewelry.
Example Buys
At Dolgins, we have a long history of buying fine jewelry from worn out gold rings for $100 to complicated, high valued estates. Here are a few recent examples of what we have bought: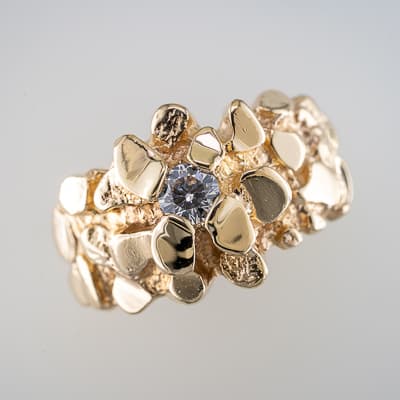 Inherited
Who Sold...

My family member (mother, aunt, grandma, etc.) left us some jewelry as a part of the estate. We distributed some items but want to sell these pieces.
What Specifically...

Unworn nugget diamond ring and broken gold chain (not pictured)

Where Now... Remove diamonds, then sort and repurpose them. Refine and recycle gold.

Sold For... $500
Divorced
Who Sold...

The relationship has ended, and I am ready to move on. Selling this diamond ring and other items will help.
What Specifically...

Platinum halo engagement ring with a 2 carat round brilliant center diamond and a mens platinum and 18 karat gold band

Where Now... Dismantle the ring. Refine the platinum. Reuse the melee diamonds in a new project. Have GIA grade the large 2 carat round center diamond and resell it.

Sold For... $8,000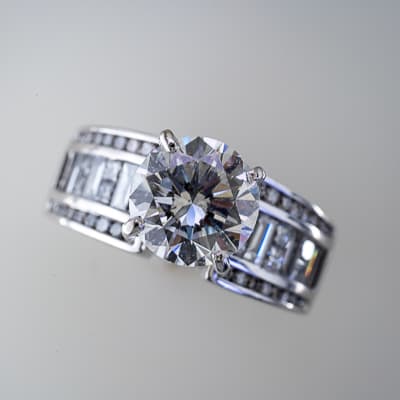 Needed Money
Who Sold...

I have some responsibilities elsewhere and am selling this diamond or jewelry to fulfill those promises.
What Specifically...

4 Carat Round Brilliant Diamond GIA graded

Where Now... Updated the GIA gradind report and make the diamond available to purchase

Sold For... $45,000
Traded/Wanted New
Who Sold...

In order to fund her upgraded new ring, I accepted these antique bee pins as a form of payment.
What Specifically...

Antique diamond and 18 karat yellow gold pin

Where Now... Refurbish the pin and try to sell

Sold For... $1,000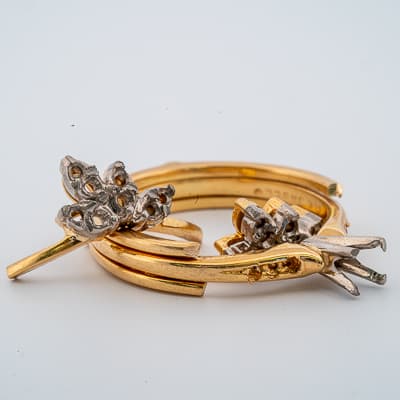 Repurposed
Who Sold...

After pulling the diamonds and setting them in her new wedding band, I purchased the gold ring.
What Specifically...

Dismantled, broken gold ring

Where Now... This ring was destroyed when we pulled the diamonds. The gold will be refined and recycled. She kept the diamonds to set in her new wedding band.

Sold For... $150
Worn Out
Who Sold...

Bracelet in 14 karat white gold sold to Dolgins because it has worn out and had links that were breaking.
What Specifically...

Worn out 14 karat white gold bracelet

Where Now... Refining and recycling the gold

Sold For... $350
Gold Price Through The Years
1969 to Today
Dolgin's was extremely helpful, friendly and a pleasure to do business with. Very knowledgeable and a real pro in his business. Best guy to bring gold rings & diamonds to, honest and best price. 10/10 recommended!