Custom Jewelry Gallery
Marsha and I complete so many custom jewelry and engagement rings; we love to share them with you. These pieces of jewelry are unique, designed and crafted in my jewelry store in Kansas City.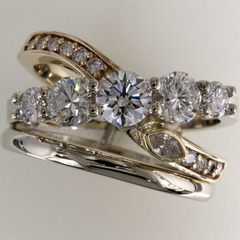 Creating A Ring From Heirloom Diamonds
At the suggestion of a friend, a customer brought in a collection of heirloom jewelry including a necklace from her mother, rings from grandmother, and some other jewelry she had purchased. We worked with her to incorporate as many of her gemstone...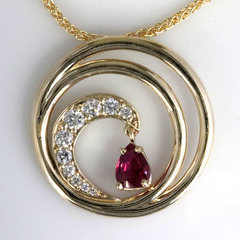 Circle Wave Ruby Pendant
While traveling, a longtime customer found a pendant she loved. A few months later, she and her husband contacted me to craft their special version of it. The couple described the design, making some changes including selecting a beautiful pear-sh...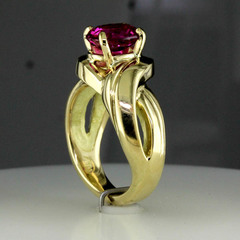 Pink Sapphire In 18 Karat Yellow Gold
This gemstone is a genuine Burmese pink sapphire weighing 2.85 carats. The pink color is natural, vibrant, and the perfect hue. This customer wanted the oval gemstone set in yellow gold, so we custom-made this 18 karat gold ring. We used a floral ...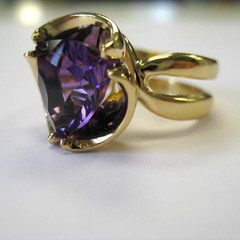 Trillion Amethyst Flowering Ring
We designed this ring with a violet theme. The center gemstone is a deep purple trillion-shaped amethyst. Surrounding the brilliant purple gemstone is an 18 karat yellow gold mounting. The slightly offset gemstone and setting resemble buds of a bl...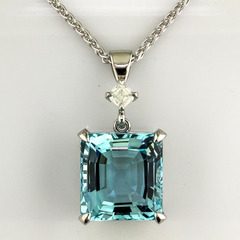 Emerald Cut Aquamarine Pendant
Aquamarines of this quality and size are rare. I had this particular aqua certified by the Gemological Institute of America (GIA) to verify it is real and the color is as perfect as it looks. Because the gem is over 50 carats, we decided a pendant...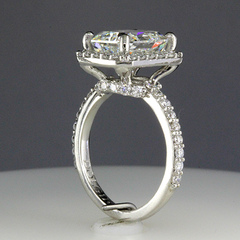 Halo For 3 Carat Radiant
A customer wanted ring that looked like the actress' Gwyneth Paltrow's first engagement ring. This ring was our take. We first selected a beautiful 3 carat radiant-cut diamond with a GIA grading report. Radiants are brilliant cut (as oppose to a s...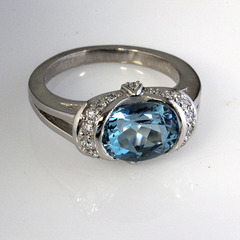 2.5 Carat Oval Aquamarine Ring
I remember having the ring planned but being unable to find an aquamarine that fit the bill. Finding an aqua with the right color and size proved to be difficult. Once we had the gemstone, the ring setup beautifully. The oval is set horizontal in ...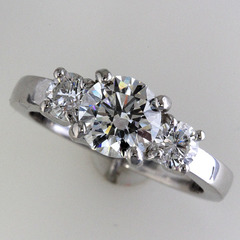 Three Diamond Ring In Platinum
I sell a lot of three-stone rings. They have been a classic ring style during my career and really peaked in popularity when the "Past, Present, & Future" advertising campaigns ran. Given that they are a popular style, they are really not a cu...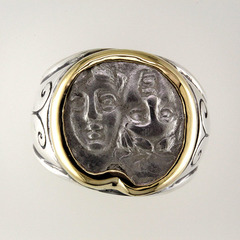 Coin Ring With Castor & Pollux
Whenever a beautiful coin comes through my studio, I am always in awe about how old they are. This coin features the twins, Castor and Pollux and was struck in Ancient Greece probably over 2000 years ago. NGC verified the authenticity of this silv...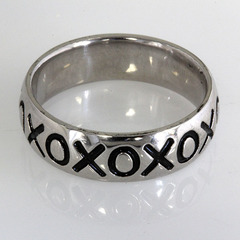 XOXO Men's Wedding Band
I cannot take any credit for this design; however, it is a favorite men's band. The customer is a talented local artist, who designed the ring. We took his design, scanned it into the computer, and developed a CAD model from that using the exact "...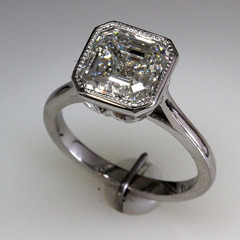 Solitaire Asscher-Cut Diamond Engagement Ring
This couple began their search for a symmetric octagon-shaped step cut diamond. I researched and look but really did not find any diamonds that met their criteria, so finally asked them to view a few Asscher cut diamonds, which are step-cut octago...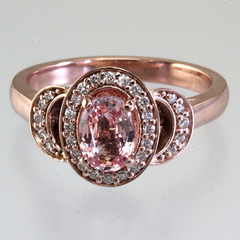 Oval Peach Sapphire In Halo Engagement Ring
Set in 14 karat rose gold, this engagement ring features an oval-shaped peach sapphire. Finding the perfect sapphire was difficult as sapphires have so many different hues. After finding the right hue of peach, we created this ring similar to the ...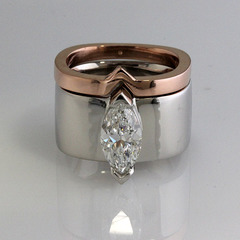 Marquise Diamond Wide Engagement Ring
A customer brought in 2 carat marquise diamond, which is probably one of the most beautiful marquise diamonds I have seen in my career. She received the diamond from her mother and wanted to make an engagement ring with it. We designed a wide soli...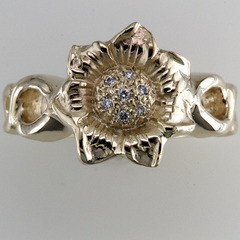 Sunflower Diamond Engagement Ring
A customer knew his girlfriend loved sunflowers and found a ring with a similar design online. That ring was not perfect, so he approached us to make it with his improvements. He wanted a sunflower center and woven band. Marsha carved a wax for th...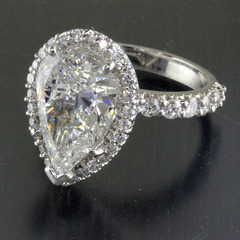 Halo Engagement Ring For Large Pear-Shaped Diamond
After inheriting her mother's jewelry, this client stopped in. We went through each piece; I explained the value and suggested repairs. The client completed the repairs, sold me a few pieces she would not wear, and appraised the rest of the jewelr...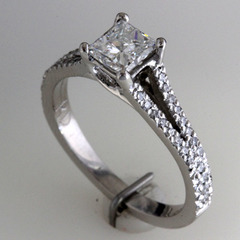 Princess Cut Engagement Ring With Split Shank
A young man brought in pictures of two rings. One was solitaire with the interwoven carriage, and the other featured a split shank with a round diamond. After selecting a beautiful GIA certified 3/4 carat princess cut diamond, we designed this rin...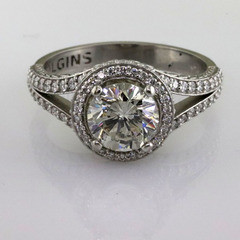 Split Shank Round Halo
After wearing her ring for a few decades, it worn out. She elected to replace it with this custom-made diamond halo engagement ring. The ring uses her 1.70 carat round brilliant diamond in the center. We made this split shank halo in platinum usin...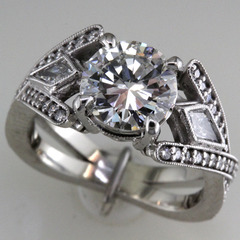 Engagement Ring With Kite-Shaped Diamonds
I love this ring, but crafting it was not easy. This customer and I slowly searched for the right center diamond eventually settling on a beautiful, GIA certified 1.35 carat round brilliant. He then sent me pictures of a ring his significant other...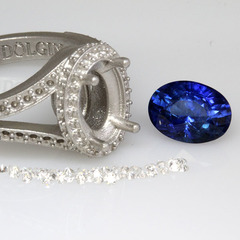 Oval Sapphire Engagement Ring
After losing her initial engagement ring, a client and friend contacted me about remaking something special for her. She loves sapphires, so I found the most beautiful GIA graded blue sapphire I could. We designed the engagement ring around the ov...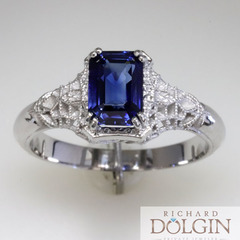 Filigree Engagement Ring With Emerald-Cut Sapphire
After showing this couple antique engagement rings, they decided to custom-make a ring that featured a common vintage style: filigree. To go along with the filigree, we found a beautiful almost 1.40 carat emerald-cut Ceylon blue sapphire. We then ...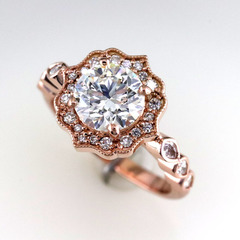 Stylized Halo Engagement Ring In Rose Gold
This style halo is becoming more popular. The halo does not contour to the 1.50 carat round center diamond perfectly but creates its own unique shape. The halo still has smaller round brilliant diamonds but also has a milgrain outside edge. The ce...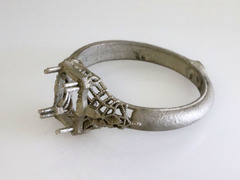 Filigree Sapphire Engagement Ring
This customer loved the antique filigree looks with a emerald-cut sapphire. After considering a few true antiques I have, we decided to custom-make her a ring to fit the size sapphire she wanted and make an everyday ring. Antique filigree made wit...
Five Diamond Bezel Set Band
We set this band up for a customer, and his wife loved it. The wedding band features 5 round brilliant diamonds bezel set in 14 karat white gold ring. The diamonds are very high quality, and the look is beautiful.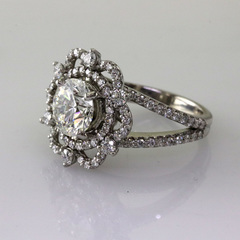 Snowflake Ring With 2 Carat Round Diamond
A client wanted a spectacular snowflake ring, so we made it. She selected a beautiful 2 carat round brilliant diamond for the center. Surrounding the center diamond are almost two halos which complete the snowflake. The round side diamonds are var...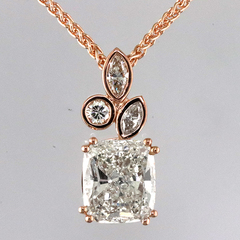 5 Carat Cushion-Cut Diamond Pendant In Rose Gold
Rose gold jewelry is popular now, so a client requested we design and craft a piece for his wife. He wanted a stunning center diamond for this pendant and selected a 5 carat cushion-cut. We made the pendant with sturdy double prongs for the center...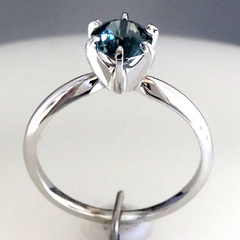 Montana Blue-Green Round Sapphire
When a young man came into my office requesting a round blue-green sapphire for an engagement ring for his wife, I knew the perfect one for him. This sapphire is from Rock Creek, Montana and fit his color description so well. The client had a conn...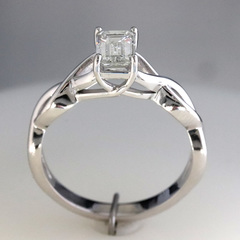 Infinity-Style Engagement Ring With 1 Carat Emerald-Cut Diamond
A customer brought this ring design to me., and we duplicated it with some slight improvements. This 14 karat white gold engagement ring features the infinitely-style woven pattern and is set with a 1.04 carat emerald-cut diamond, H color and VS2 ...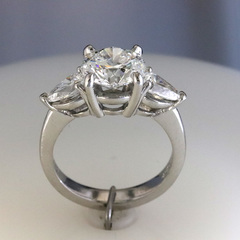 3 Diamond Ring With Pear-Shape Sides
This engagement ring is a beautiful variation on a 3 diamond ring. The center is an ideal cut 2 carat round brilliant diamond, and I cannot emphasize enough how beautifully cut this particular diamond is cut. Flanking that center 2 carat round dia...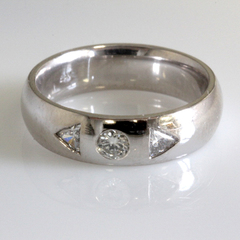 Men's Three Diamond Ring To Match Hers
We remade an engagement ring and wedding band for a customer using her heirloom diamonds which included a matched pair of trilliants, which are a brilliant cut that has 3 sides. When her now husband needed a band, he wanted the "his-and-hers" look...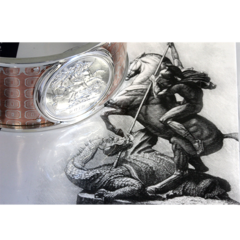 Men's Coin Cuff Bracelet
A customer loves dragons and wanted a mokume gane cuff bracelet with a dragon coin. We made the bracelet in sterling silver and set English 20 pound coin in it. The reverse side of the coin features St. George slaying a dragon, which we set facing...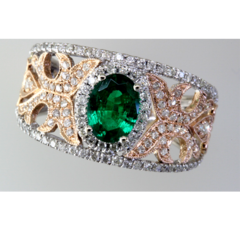 Ring Replacing Center Gemstone With Emerald
An old friend and long-time customer contacted me after his wife inherited a beautiful ring. She loved the ring but wanted to replace the center peridot with an emerald. I worked with him to find a beautiful 7 x 5 oval emerald. After finding a bea...